It started with the unknown rider in the PBP 2011 shirt who I chatted to on my commute, and who is, therefore, responsible for all of this!  As I developed a taste for long bike rides, my awareness of PBP grew until I started wondering whether I could attempt it. The history, the legendary local support, the international community of randoneurs – all of these were attractive, but PBP seemed impossibly daunting when the longest ride I had done was the Dunwich Dynamo.
Fast-forward to 2019. Having completed my first SR series, and conscious I would be 57 in the autumn, it felt like time to face the challenge. Apparently, a few happy-go-lucky people simply turn up and ride PBP with little preparation. I am not one of them! For the next eight months – with registration, riding qualifiers and post-qualifiers, honing my bike set-up, booking travel, plus the inevitable niggling injuries – getting ready for this "gruelling test of cycling ability" (Bill Bryant)      took over my life. Before leaving I created a spreadsheet listing distances, climbing and planned stops for each stage. Using data from previous rides as benchmarks, my completed plan estimated a finish time of 84 hours.
With my plan, my bike and myself ready, I was on the way to Rambouillet, with the 200km ride from Dieppe providing a nice warm-up. It is fair to say that I was a member of the most common demographic at the pre-ride swarming of the MAMILs on an extremely damp Saturday. At least the participants had a genuinely international flavour, due to PBP's global renown.
A long wait on Sunday for the evening start meant plenty of time to examine the contents of the PBP rider pack. The brevet card, frame plate and cycling jersey were talismanic. The yellow PBP bag and the gilet – compulsory at night, with time penalties for miscreants – looked bargain-basement. I risked some last-minute changes to my luggage set up, bringing my loaded bike below 16kg. Cycling through Rambouillet, smiling at other riders, I realised the preparation was over and the adventure was really beginning.
The grounds of France's "national sheepfold", adjoining the chocolate-box Chateau de Rambouillet, provided plenty of space to despatch thousands of cyclists, like lambs to the Audax. After queuing to get your brevet card stamped, you get on your bike and start riding. Then it's out through the park gates and onto the open roads, heading west towards the sunset.
A fast start! Lots of people at the roadside offering "bon courage". Direction provided by plentiful pink-and-yellow signs to Brest. Inspiration provided by the stars and a powerful moon that was to be a companion for the next four nights. The night trains (peletons) sped me to the first rest stop, Mortagne-au-Perche, an hour quicker than planned. I ate soup and pasta, dispensed by efficient volunteers.
Onwards, with more night trains. A rider complained my rear light was too bright. I adjusted it, practicing my French conversation. Resting by a church, somewhere in the Alpes Mancelle, I watched vacantly as a rare pothole saw several lights fail the bounce test! Did I pick up bad karma by not warning approaching riders? Coffee and cake at a pop-up, in exchange for sending the hosts a postcard from home (a promise I was happy to keep). The village of Averton was delightful in the dark, lined with imaginatively decorated old bicycles and surreal plastic bottle sculptures. After getting my brevet card stamped at the Villaines control, I rode on as dawn arrived.
A crash! Entering the village of Loupfougères, riding two-abreast whilst overtaking another rider, my companion came too close so I pulled across the centre line…except it wasn't a line anymore; the white paint had been replaced by a cobbled ridge. The bike disappeared from under me and I slid along the ridge. After the initial shock I stood up, span the wheels – which appeared true – and was relieved to find only minor grazing to my right hip. I heard a shout of "Dangereux!" and saw an elderly man waving his stick. He explained I was the second cyclist in an hour to crash here and that he had warned the council against installing this traffic-calming hazard. Thanks a lot! After ten minutes I was on my way again – feeling extremely lucky, but nervous in case of undiscovered damage to bike or self. At Le Ribay the volunteer mechanic couldn't find anything wrong. By the Fougères control the bike had done 80km since the crash without problems, so I ate a plate of pasta and carried on.
I had crossed into Brittany before Fougères without much ceremony but that changed heading west, with roadside supporters waving Breton flags. The riding was dominated by the headwind, characterised in some accounts of PBP2019 as "brutal" but no match for the worst of the Fenlands. I rode this stage with Jason, of Audax Club Mid-Essex, whose company made the miles pass quicker. At Huit-a-Huit (like 7-11, with shorter opening hours), the Madeleines came in bumper packs. I stuffed as many as I could into my bag and donated the rest to other cyclists. At the Tinténiac control the entertainment included Breton dancing – I was tempted to join in, but my legs weren't.
The stage to Loudeac included the first of my hotel stops, only 1km off the route but I got lost, riding an unnecessary 3km rather slowly. It took ten minutes to persuade the receptionist to let me take my bike into my room. I washed self and kit, set the alarm and slept, deeply. On waking, I completed my faffing before eating pasta in the empty restaurant. The whole stop, from leaving the route to rejoining it (time penalties if caught skipping a section), took 2 hours 40 minutes for one hour's sleep. Not efficient.
The sky had turned dark and threatening. Sure enough, on the next stretch I experienced the only rain of my ride. But the weather's bark was worse than its bite – a few showers, blown past by the strong westerly. I had, however, woken with a very sore wrist. This was a delayed effect of the crash, provoked by lying still while sleeping. Resuming movement on the bike helped but it was still tender when I arrived at the Loudéac control at 10pm. After some form-filling, the medical centre dispensed an icepack and anti-inflammatory gel which improved things. The control was crowded but I encountered Brad from Audax Club Hackney. Great to see a familiar face in my part of the PBP 'bulge'.
I rode the stage to Carhaix-Plouger in the middle of the second night. The route was hillier and felt ominously similar to a ride I'd DNF'd in Devon and Cornwall. At 3am, the corridors of the Carhaix control were full of sleeping figures. I put my head on the table, setting the alarm for 15 minutes.
Into the small hours, I joined a group of British riders on a winding section between towering wooded ridges. The valley came to an abrupt end and, as the road ramped up, I felt an unexpected burst of energy and kicked away from the group, feeling like a chamois as I passed several other riders for a magical stretch of night-climbing on a winding forest road to the aptly-named village of Huelgoat.
Unfortunately, the elation dissipated with another 7km of climbing on a nasty dual carriageway, where the first lorries of the day were appearing. This led to the highest point of the ride – the Roc'h Trevezel. The reality of exhaustion was bearing down, every pedal stroke wearier than the last, until I had to get off. I stood by the D764, a shadow of the cyclist who had been dancing on the pedals 15 minutes earlier. It took a while to summon the strength to get back on the bike and continue sluggishly to an anti-climactic plateau, decorated with campervans. I had been underway for 36 hours and had slept for just over one hour.
A weary first light embraced me as I descended into a very cold mist. This time fatigue struck quickly. I wanted to get off the bike but couldn't see anywhere to rest until I spotted a grubby plastic chair in Ty Douar, a spattering of grey houses. I got off and dozed – perhaps for ten minutes but maybe much more. Too cold for deep sleep, my attention was caught by a fluttering pennant on a bike speeding past. I recognised Pete, a rider I had met on the ferry to Dieppe. The thought of saying hello spurred me into action and I set off in pursuit. We rode together, fighting the cold with conversation, until we reached Sizun and shivered into a condensation-filled café.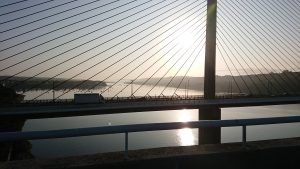 Twenty minutes later, restored by croissants, coffee and the return of daylight, we set off for a fast(ish) run into Brest. Crossing the gossamer-strung bridge in the early morning light, after 600km, was a truly uplifting experience. Of course, arrival at Brest signified the requirement to turn round and cycle the same distance back. This could have been disheartening, but as I left the control I found it highly motivating that the iconic signs I had been following for 37 hours were now directing me to Paris.
At Brest I had the second of my pre-booked hotels. With the precious stamp in my brevet card, I diverted a fiddly 1.5km off the route and checked into a comfortable room. However, after faffing I decided I had no time to sleep! I sat in the room, wafting the hair-dryer at my damp shorts. Under two hours after arriving in Brest I was on my way again.
The stage back to Carhaix was statistically the hilliest of the route, but it felt easier than expected. It helped that it was a pleasant sunny morning, and I braved a 15-minute nap on a comfy grass verge. I was also getting the idea of the ubiquitous baguettes – buy one at each control, stuff it in a back pocket then chew at it whilst riding the next stage.
At the control, I lay on the canteen floor for 30 minutes. I realised I was in the process of messing up my sleep, but my third hotel was just before Loudéac and right on the route. I was counting on having a longer sleep there, as the minimum speed required reduces as the ride progresses. The owners of this hotel were happy for me to take my bike into my room – although they found the idea hilarious. This was because the room was on the second floor, up a tight winding staircase. Having hauled everything up, I slept for an hour. I had asked Madame to wake me in case my alarm failed; when I opened the door she was about to knock and I nearly got hit in the face!
I was in and out of Loudéac in less than five minutes, pleased to have my planned three-hour buffer as I ventured into the third night. I remember thinking I could see the word 'FIN' spelt out by the reflective strips on the gilets of riders in front of me. They seemed to be on electric scooters, their upper-bodies gliding along the road, with black leg-warmers making their legs invisible.
My plan said I should 'bounce' Quédillac, but mind and body were insisting on another rest. I peered into the sports hall serving as a dormitory. Hundreds of snoozing cyclists were dimly visible, lying in numbered rows and columns like the spreadsheet I was turning my back on. A volunteer asked what time I wanted to be woken and wrote it down to avoid linguistic misunderstandings. He led me to my 'cell', where a mat and blanket waited. I took off a couple of layers then lay down into instant sleep. Half an hour later (yes, I hadn't actually said goodbye to my buffer) I was woken, without disturbing my sleeping neighbours, by another volunteer. My first experiment with a PBP dorm had gone extremely well.
The last 30km of this stage was otherworldly. The night was punctuated by a mysterious flashing light, visible on leaving Quédillac, which eventually revealed itself as a beacon at the top of the towering communications mast on the hill crowned by Bécherel. The pulses had a meditative effect as I climbed. Shortly before first light, at the Tinténiac control, I was disappointed to discover the Breton dancers were off-duty, so I didn't hang about.
Talking can be a good defence against tiredness and I was grateful to meet Stephen from Yorkshire, having spotted the white rose sticker on his mudguard. We chatted about the Paris-Brest pastry and the encouraging sign I had seen yesterday; 'Paris-Brest, C'est du Gateau' – it's a piece of cake!
My third day on the road featured the best of four PBP sunrises. I took pictures, along with everyone else. As we approached Fougères, the fatigue got too much again and I dozed on a narrow bench in a grubby bus shelter – only one star for this 'Audax hotel'.
I spent an hour at the Fougères control, ostensibly being sociable. The reality was, after 62 hours with only four hours sleep, I was putting off getting back on my bike. I left at 10am, my buffer diminished. I had a fourth hotel booked, but couldn't work out how to fit in the much-needed three-hour sleep in my plan without being left racing against the control cut-offs. This was a low point as time seemed to be slipping away from me. I was lucky to encounter Rob of ACH, an experienced Audaxer, who was clear that stopping at the hotel would be a mistake. So I latched on to one of the few trains left at this point, metaphorically ripping up my plan. It was a struggle to maintain concentration for group riding but I took my turn at the front and sped past the hotel I had already paid for, arriving at Villaines-La-Juhel with my buffer restored.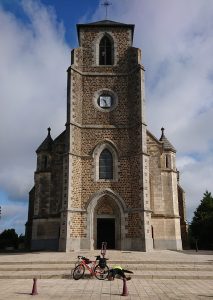 My exhilaration was amplified by the atmosphere. Villaines is famous for embracing the PBP spirit and was living up to its reputation that sunny August afternoon. The main street was lined with friendly spectators as a commentator pointed out interesting features of cyclists and bikes. I slept for 30 minutes in the dorm, empty at lunchtime. In the restaurant, cyclists were led to the front of the queue by local schoolchildren who carried their trays of pasta to the tables!
I was in good spirits now. With 200km to go, the ride felt do-able again. It was mid-afternoon and 25 degrees warmer than it had been on the Roc the previous morning. The long gentle descent into the Sarthe valley afforded fantastic views towards the Perche region. An excellent pop-up in the central square at Mamers had dark chocolate and fresh orange segments. I ate a fair amount, rather messily.
The wind had turned round, creating a double-whammy not usually suffered on an 'out-and-back' ride. Fatigue stalked me as I approached Mortagne, but I was pleased to arrive seven hours ahead of schedule as the more generous minimum speed finally kicked in. I felt confident enough to book into the dorm, which was the biggest I visited and deserted at 8pm.
I left for Dreux as it got dark. This stage dragged, partly as I wasn't turning the pedals very quickly but also because of the featureless fields. The moon had been busily waning since Sunday and offered scant light. It was cold again. My front lights were low on power. The final control seemed to take forever to arrive. I ate unmemorable food (pasta, at a guess!) before sleeping for an hour. The waking system seemed chaotic, so I set two alarms.
The effect of 80 hours on the road was evident from the deterioration in my capacity to speak French and do basic calculations involving times and distances. However, I was clear I wanted to leave Dreux early enough to avoid crowds of (other) incompetently tired cyclists on the final stage. So I left at 5am and enjoyed an atmospheric two hours of near-solitude until daybreak. Then I was cycling into the park and past the chateau for the final kilometre of the ride. It felt unreal. Some early risers peeped out of campervans as I completed the short climb to the Bergerie Nationale. A handful of people clapped me through the PBP arch and into the courtyard, where someone had decided it would be amusing to make exhausted cyclists do a circuit of rustic cobbles before crossing the timing mat. It was two minutes to seven, just after sunrise.
A cheery man presented me with a satisfyingly heavy medal and a final stamp in the brevet card. I was aghast when he then took the card away from me, explaining it had to be 'homologated' by the ACP. I whipped out my phone and took pictures, just in case!
As I shuffled around on cyclist's sea-legs, I found myself alone by the presentation stage. I took selfies then sat on the steps and composed a message of thanks to everyone and everything and posted it with my ride details online. Then I felt cold and retreated to the marquee for the post-ride meal. My time was 83 hours and 35 minutes. I had spent a quarter of this off the bike, including a very fragmented seven hours of sleep. Incredibly, with all the 'snakes and ladders' along the way, I arrived at Rambouillet three minutes before my planned time.
There was plenty of atmosphere as the day warmed up and cyclists streamed in. Waves of tiredness ebbed and flowed through me. The dorm for finishers sounded and smelled exactly as you'd expect, so leaning against a wall in the sun proved a better option. But even the sunniest spot couldn't compare to my hotel bed, which I finally reached at 2pm.
A 'proper sleep' would have to wait, though, as more excitement awaited at the Bergerie Nationale. I cycled back to find ACH enjoying beers in the late-afternoon sun, too tired to recount much about the ride. Later I joined the modest crowd at the stage to applaud the organisers of this fantastic event. After speeches from ACP officials an excitable man, looking like a property developer in crisp white shirt and shades, appeared on stage and took over proceedings. A volunteer next to me explained that he was a local politician, "who has never cycled to Brest!".
As the light faded I joined the stream of cyclists drifting away, like an army after a battle. The next evening found me retracing familiar pedal strokes through the rolling terrain of the Vexin for a relaxed overnight ride back to Dieppe, before, on the tenth day of my PBP adventure, I carried my bike up the front steps and into our house.
Completing Paris-Brest-Paris and becoming an 'Ancien de PBP' doesn't bring any privileges except the echoes of your personal odyssey…
PBP plus one month: I am driving in France, heading for a late summer holiday (with family, without bike). We are crossing the PBP route between Villaines and Mamers. These pages of the Michelin map will always be special to me.
PBP plus two months: I am exhausted by an easy 200km. Niggles I'd resolved the year before are recurring. I realise the extent to which I have been depleted by PBP.
PBP plus four months: After two more 200km rides I feel almost back to normal. My wrist is OK although the scar on my right hip will be around for a while, a souvenir of my crash.
PBP plus nine months: I have written my PBP story. The 2020 season has not turned out as expected but I hope PBP, which has survived two world wars and many other upheavals, will be there to create adventures at its next edition in 2023.